Supervisory board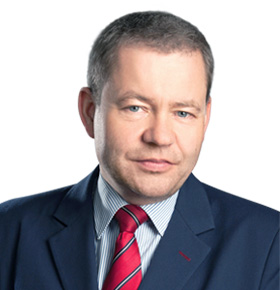 Mariusz Warych
Independent Member of the Supervisory Board, Chairman of the Audit Committee
He holds a degree in foreign trade obtained from the University of Łódź, Faculty of Economics and Sociology, and has a diploma in Finance and Accounting from Hogeschool van Utrecht, Netherlands. He participated in the ACCA (Association of Certified Chartered Accountants) programme, and holds the Certified Internal Auditor (CIA) designation. He specialises in management, oversight, assessment of business efficiency, identification and resolution of financial and operational weaknesses, management of the risks related to delivery of business objectives, internal audit, business training and independent membership in supervisory boards and audit committees. Since June 2013, he has been an independent member of the Supervisory Board of Bank BGŻ BNP Paribas, where he also chairs the Audit Committee. In the years 2011–2012, he sat on the Supervisory Board and the Audit Committee of JSW.
In his previous career, he held the position of Internal Audit Director for Europe at KBC Group, Aviva, Allianz, PZU, and served as Financial Director at Citileasing and Handlowy-Leasing. He also worked as Risk Management Director at Deloitte, and as External Auditor hired by Ernst & Young's flagship offices around the world, specialising in financial services and high-techs – in Warsaw, London, Toronto, Vancouver and New York.
Since 2009, he has chaired the Heads of Audit Club in Poland.
In addition, he was a financial advisor to the Canadian Polish Congress in Vancouver, where he also hosted a programme at Polish Radio NOFA.